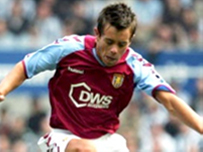 Lee Hendrie in action for Aston Villa
Lee Hendrie has recently hinted about a move to Scottish 1st Division outfit, Stranraer. The Aston Villa midfielder as reportedly been losing his patience with the Premiership side.
According to a BBC source, "He sees Stranraer as one of the sleeping giants of Scottish football, and he sees himself as the perfect person to "wake them up"
Hendrie is also reportedly a fan of Stranraer's training facilities, regarding them as better than most.
Lee Hendrie is a self confessed ship fanatic, and a move to Stranraer would help him develop his hobby with the town having one of Scotland's biggest passenger and freight ports.
One Scottish football expert said to the BBC, "Stranraer are potentially a sleeping giant of Scottish football. With the right investment and the introduction of players such as Hendrie, promotion to the SPL can't be far off"
Links to more St Mirren stories
The BBC is not responsible for the content of external internet sites